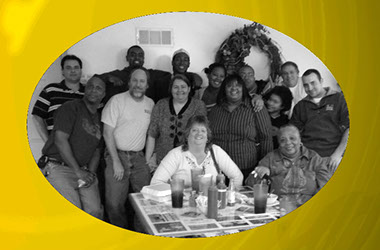 As in all families, you can never get them in one place at one time. Those, present, front row, Dorothy and Momma Noel. Second row, Tony, Jim, Mary, Shirley, Elijah, and Little Mike. Last row, Nick, Jon, Isaiah, Crystal, Keith, and Big Mike. (Not present: Sandy, Jessica, Will, Lyssa, and Karessia.
About
.
RKS was formed when Jim and Mary saw a need that was not being fulfilled effectively by manufacturers. They decided that they could fill the niche more effectively and more cost effectively. Thus, RKS was born. Initially, marked exclusively through a good friend who believed in them and Jim's know-how, the first product was sold in November 1992. One of the very first people Jim and Mary hired as contract assemblers, was Tony Noel, whom they had met through a mutual friend. Back then, assembly was done on Jim and Mary's kitchen table. Tony would regularly bring his wife, Shirley and children for a play dates and Mommie breaks, since both Mary and Shirley were stay-at-home moms. They all quickly became friends.
That same friend that made RKS possible, Don Baker and his wife Sofie, later joined as business partners when the decision was made to incorporate the company in 1995. As the company grew, so did the need for more help to assemble the product. Through the years, we have had many that started out assembling out products to leave, some came back, and then stick around. One such assembler is Dorothy Poppin (Sambucci). Dorothy had left us when she was offered a job with, you guessed it, insurance. In 1998, our first non-owner employee was hired. Sandy Butler has been with us since.
In 2004, Don decided he wanted to retire. The only people that Jim would even consider was Tony and Shirley. In 2009, after an extensive search and some amazing luck, Dorothy, now married rejoined us. After a bit of bad luck that year, RKS made an unscheduled move to its current location. We have since added Tina Smith in assembley and hope to be adding Robert Tidwell as a permanent repair technician in the near future.